Battle For Bhabanipur: High Octane Contest On, 48.08% Voter Turnout Recorded Till 3 PM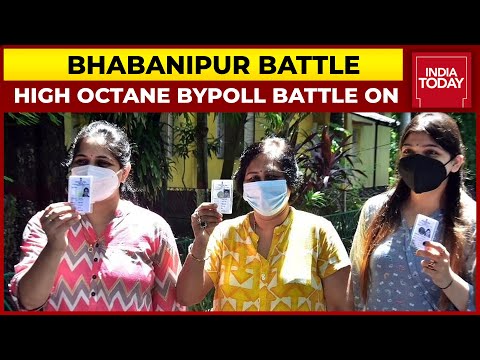 Voting has largely been peaceful in Bhabanipur assembly seat, where West Bengal Chief Minister Mamata Banerjee is contesting, with 48.08 per cent turnout till 3 PM, officials said.
A high voting rate at 72.45 per cent and 68.17 per cent was recorded in Murshidabad"s Samserganj and Jangipur seats respectively, where polls had to be countermanded during the April-May assembly elections following the death of two candidates.
A total of 6,97,164 voters are eligible to exercise their franchise in the three constituencies. Voting will continue till 6 PM.
#BhabanipurBypolls #MamataBanerjee #PriyankaTibrewal #IndiaToday
Subscribe to India Today for NEW VIDEOS EVERY DAY and make sure to enable Push Notifications so you'll never miss a new video.
All you need to do is PRESS THE BELL ICON next to the Subscribe button!
India Today TV is India's leading English News Channel. India Today YouTube channel offers latest news videos on Politics, Business, Cricket, Bollywood, Lifestyle, Auto, Technology, Travel, Entertainment and a lot more.
Stay tuned for latest updates and in-depth analysis of news from India and around the world!
Follow us: Official website: https://www.indiatoday.in/
Twitter: https://twitter.com/IndiaToday
Facebook: https://www.facebook.com/IndiaToday
Telegram: https://t.me/indiatodayofficial