Death toll in Ecuador prison riot tops 100: Officials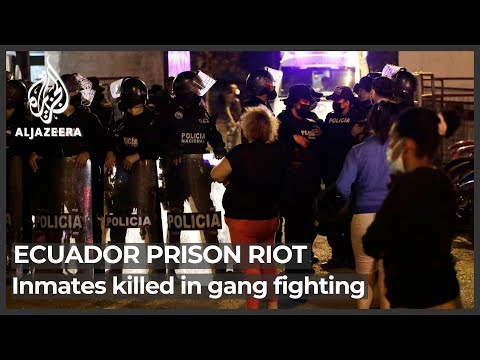 Officials in Ecuador say more than 100 inmates have been killed and 52 others injured in a riot between rival gangs inside a prison
The police and military only regained control of the Litoral penitentiary in Ecuador's largest city, Guayaquil after a five-hour siege.
The Los Lobos and Los Choneros prison gangs had fought using gunfire, knives and explosives.
Such outbreaks of violence occur repeatedly in Ecuador's prisons where overcrowding and understaffing are standard.
Al Jazeera's Lucia Newman reports.
– Subscribe to our channel: http://aje.io/AJSubscribe
– Follow us on Twitter: https://twitter.com/AJEnglish
– Find us on Facebook: https://www.facebook.com/aljazeera
– Check our website: https://www.aljazeera.com/
#Ecuador #EcuadorPrisonRiots #PrisonRiots